Stand up paddleboarding courses
SUP social evenings
We will be opening the Cuckmere center for Tuesday and Thursday evening sessions from  9 July to 5 September 17:30 and 1800 arrival slots. Hire will be available at a special rate of £16 for two hours hire (normally £12.50 per hour). We have boards available from Red Paddle Co, If you have not paddled before we recommend an introductory session. This is only £21 on a Tuesday or Thursday eve starting week beginning 20th July for an hours tuition and a free hours use of the equipment after that. We will have staff on hand for tips and hints both on and off the water.
SUP Yoga and Fitness sessions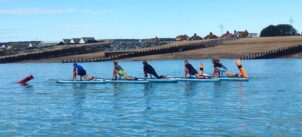 Yoga – 1 hour sessions – £14.00 or book 6 sessions for £60
For the love of yoga, the great outdoors, and calmness. SUP Yoga allows you to create new yoga moves on the water. Great for stability, winding down from the day, or enjoying a relaxing weekend activity. This session involves less dynamic movements, slow flow, & is good for beginners of stand up paddle boarding.
Fitness – 1 hour sessions –  £14.00 or book 6 sessions for £60
This class will be full of laughter, falling in the water, having fun and completing a great workout. This session is for anyone who doesn't mind getting wet! We will conduct a full body fitness session, working on our balance, core strength, stamina and overall ability to stay on the SUP board. This session is aimed to make you feel tired at the end, but to have had great fun doing it.
Eastbourne Sunday mornings
SUP yoga sessions will run from our Eastbourne site on Sunday mornings at 9 AM,  Fitness sessions follow on from that at 10 AM.
Book classes at Eastbourne now
Cuckmere Wednesday Evenings
SUP fitness sessions at the Cuckmere run from 7 PM and yoga sessions will run after this at 815 PM
Book classes at the Cuckmere now
SUP taster sessions at the Cuckmere.
Stand up paddle boarding tasters give you an introduction to the basics of paddle boarding, from getting on, balancing, paddling and steering. This session is an hour of tuition, followed by an hour of free paddling time. The sessions are available for juniors and adults on a Thursday evening and Saturday afternoon. Please check dates and availability by clicking the book now button.
Thursday evening sessions from  6 – 8 pm.
Saturday afternoon sessions from  2 – 4 pm.
£21 pp
Book classes at Eastbourne now
SUP Improver sessions at the Cuckmere.
For all SUP clients that have done the sup taster intro session, and are confident paddling some distance on a paddle board on flat water. This session will improve technique, skills and include a loop paddle introducing paddling on a tidal stretch of the Cuckmere river (weather permitting)
If weather does not allow for the tidal section then other focus will be made on using different equipment, rescue techniques, improved paddling technique, turning and steering skills, timed paddles and or short sprint races, giant sup experiences.
Thursdays 6 pm to 8 pm Dates TBA
£21 pp
Alfriston trip on the River Cuckmere.
We will be offering a guided tour with one of our British Canoeing coaches up the river towards Littlington and Alfriston when the tides suit the journey, typical journey times are approx. 4 to 5 hours including a lunch stop. Starting and finishing at the Cuckmere center this return journey is a trip up the idyllic Cuckmere Valley, you can paddle a kayak, sit on top or a Stand Up Paddle board. This is a days paddling, You must be able to paddle a kayak or SUP to embark on this trip. We will assess your ability before leaving the meanders so please be honest when you book or you may be turned away on the day! Taster sessions are available, please see above.
2021 dates TBA
Cost: £35 pp inc equipment.5 hour trip. per person
Book now
Private tuition
Bespoke sessions available on request, see our taster sessions for more details and prices.
We can offer private lessons from 1:1 to a whole group of up to 30. Please contact us for details and bookings.
Are you a school interested in paddle boarding? Check out our school groups section for more details.
[/vc_ro
Got some questions? Then please call
01323 417023