What is project adventure?
Project adventure is the combination of all our outdoor activity provision rolled into one fantastic adventure residential offer. Based from our Partner site, Bushy Wood, where you will be staying, camping under canvas, cooking on open fires, exploring the woodland, and participating in our range of land based activities on site. Each day of the residential we have a host of sport activities to choose from at our Bushy wood, Eastbourne and Cuckmere sites. From climbing, archery, high ropes, fire lighting or shelter building in the woodland, to sailing and windsurfing on Princes Park lake, or the sea, kayaking, canoeing and stand up paddle boarding on the beautiful Cuckmere meanders, or team tasks such as raft building, or giant paddle boards, as well as exploring adjacent Friston Forest, with map and compass in hand!
All together, this embodies project adventure with Buzz Active! Please see down the page for more detail about how we will run the activities, how they can link into the curriculum and develop your students through adventure!
About Bushy Wood
Bushy Wood is a scout owned activity centre just off the A 22 near Hailsham in East Sussex, from where Buzz Active lead their land activities.
Set in 17 acres of English woodland, Bushy Wood provides a wonderful environment to be immersed in nature, whilst having access to the simple luxuries of toilets and showers.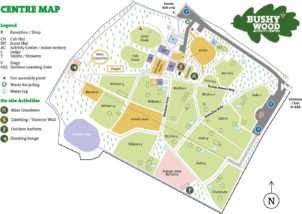 Buzz Active Ethos and Aims
Buzz Active exists to provide enjoyable, engaging and educative activities of the highest quality, tailored for school children of all ages. Our sites are surrounded by geographical features, historic landmarks and flora and fauna of all shapes and sizes, giving plenty of opportunity for curriculum links and bringing your classroom outdoors. Whatever outdoor learning outcomes you have in mind we aim to create a programme for you!
Onsite Activities Available
You will be able to select in advance the activities that you wish to be included in your stay. The following activities can be delivered at Bushy Wood as 1.5 hour actvities forming a part of you package.
Our 6m high wall has 6 different climbs of varying difficulties. The group will be able to experience climbing and belaying during this activity.
Our enclosed air rifle range will keep the groups engaged with a masterclass in marksmanship from the team. We aim to introduce groups to target shooting with 0.22 air rifles from a seated position closely supervised by our watchful instructors.
The range is 10 metres long with a covered shooting area. The instructors will identify the size and type of bows that will be used for your session. You will be taught shooting technique and be able to put your skills to the test in some games.
The instructors will decide upon which team building activities will be delivered. They will include time for the group to discuss and plan their approach, test their plan and then review their performance as a team.
The instructors will guide the groups to design and build a structure using ropes and poles, in order to achieve an objective.
Fire Lighting and bush craft
Back to basics to learn the key components to making a fire without any matches. The group will be shown the best fuel to use and how to get that spark using a flint and steel.
Learning the basics of shelter building using natural materials or using tarpaulin and rope. The group will learn different knots and shelter designs or create their own.
Our newest activity, it requires the team to work together to build and climb a tower of crates before it topples. Groups will climb, build and belay during this session. It's great for team building.
Spread across the 17 acre site, are a number of check points. The groups will be shown how to locate where they are on the map and how to orientate the map. This session can include learning how to use a compass.
This is a really fun activity for all ages, see how high you can launch you own pop bottle rocket into the canopy as a part of a tea building activity or just for a little bit of fun!
Offsite Activities Available
Buzz Active Cuckmere
Learn to paddle a kayak on the meanders of the river Cuckmere, this group activity is the perfect introduction to paddle sport. Students learn the basics of paddling and steering with fun and games.
This relatively new sport has taken the world by storm in recent years, and we can provide a great introduction to this sport with all students being able to stand up, paddle and steer their boards by the end of a session.
This team activity is often coupled together with stand up paddle boarding, but we can run this as a team activity in its own right. Teams will learn to paddle and steer as a team in order to win a race against the other teams!
This team task is great for looking at group cohesion, team cooperation, communication, group forming and is a fun activity for all ages. Build your raft, rescue the stricken duck from the opposite bank, and recover your entire team and raft before the other teams to take the win, or before your raft succumbs!
Buzz Active Eastbourne
Learn to control a sailing dinghy, this activity is run on our sheltered boating lake, or the sea in ideal conditions. Students learn to sail a dinghy in pairs, learning to steer, turn, control speed, capsize and recover.
Starting by learning to balance on a board, introducing sails, the concept of opposing forces, and the principles of sailing, standing up. This is a great activity run on our boating lake or on the sea in idea conditions.
Accommodation and Facilities
Kipling Lodge:
The main hall can sleep up to 18 young people on the floor.
There are 3 side rooms for up to 5.
Wet room style shower and separate toilet.
The lodge is heated and has a well equipped kitchen. There is a separate toilet block, with hot running showers also.
Shackleton Lodge:
The main hall can sleep up to 24 young people on the floor.
There are
4 rooms which can sleep up to 12.with a wet room shower and separate toilet.
The lodges are heated and have a well equipped kitchen. There is a separate toilet block, with hot running showers.
Camping
students can stay under canvas adjacent to each of the lodges in tents provided by Buzz or bought along by the group. Or staying in the huts as outlined above.
The tents provided by Buzz are 2-3 person tents, the groups will need to be arranged in advance. Fr larger groups additional camping areas will be used and extra showers will be bought in.
Bell tents can be arranged at additional cost.
There is a toilet block onsite with hot running showers.
Catering
For your stay the group can be fully self-sufficient and will be providing their own food and cooking arrangements, or catering can be provided for details would need to be confirmed with you bespoke.
We work with local outside catering agents Mother Theresa's and we can cater for all needs and budgets with three levels of package available.
Email us on Info@buzzactive.org.uk to request the schools pack.

Activity Enquiry
An enquiry form with dynamically populated activity lists
Got some questions? Then please call
01323 463300