Buzz Active Cuckmere
(formerly Seven Sisters Canoe Centre)
Buzz Cuckmere is one of the best locations in the South East for paddle sports. Enjoy the calm waters of the stunning Cuckmere river meanders, and the open sea at Cuckmere Haven. With breath-taking views of the Seven Sisters Country Park and Seaford Head, where better to get out for an adventure on the water!
We offer canoeing, kayaking, stand up paddle boarding and raft building activities for school groups, groups with special needs, families, stag and hen parties and corporate away days. All groups are accompanied by a fully qualified BCU instructor.
We also have partnerships with local providers the Sussex Wildlife Trust, which means you can include a guided nature walk or fire lighting session as part of your visit. Contact the Buzz Active team for more details.
Buzz Cuckmere shares its home with the Cuckmere Valley Canoe Club. who run club sessions every Sunday through the season.
How to get to us
The centre is on the coast road between Eastbourne and Seaford and is well connected by a regular bus service between Brighton and Eastbourne. Car parking is available.
You'll find us on the far side of the carpark at the bottom of the valley.
Canoe Centre, at end of car park:
50° 46′ 26.91″N
0° 09′ 05.02″E
Other local options to compliment your visit to Buzz Active Cuckmere.
Saltmarsh Farmhouse
If you are looking at activities from our Cuckmere site and seek something special to compliment your activity visit? Catering options include a local Pub on the riverbank and the Saltmarsh farmhouse offer fantastic hot and cold options which can be discussed with Nick for group reservations, and you can book private rooms and bespoke catering.
If you are thinking of making an overnight booking we can cater for your group with a range of activities as listed below. We recommend Package 1 and 2 together for two full days of fun outdoor activities.
Foxhole Barn
Why not book an overnight stay at the Foxhole barn. Onsite facilities include Toilets and washing up facilities. You can camp in a secluded and beautiful area within the Country Park from just £5 per person per night, or use the fantastic camping barn, the barn has heaters, raised sleeping platforms and an indoor communal area, so no need to carry a tent! This cost from £6 per person per night. its a 20 minute walk. No vehicles are allowed to the area, you will need to carry what you need to stay overnight. Please note this is a Dry site ( no alcohol) and no fires are allowed.
Alfriston Camping
Alfriston Camping Park has been trading 15 years now, first started by the sadly departed Roy Savage. It has now been taken over by his Son Frank Savage. They are both very proud of their ACP Campsite and have built the campsite from a basic field for a few tents to a thriving Camping Park, with a thriving community, that caters for camper-vans, Caravans, Motorhomes, plus of course tents. Frank is always looking for new ways to make ACP a better experience for all, customers and staff alike.
ACP also cater for other 'SPECIAL' events; like Weddings or Birthday's, normally these do not require the whole site; it is possible however to have a separate field or even have an area roped off. So if you would like us to host your 'SPECIAL' event then please use our Contact ACP section to let us know your requirements.
Contact Details
Seven Sisters County Park,
Exceat, Near Seaford,
East Sussex, BN25 4AD
Tel: 01323 491289 (site contact only)
all enquiries use 01323 417023
Email: info@buzzactive.org.uk
Opening hours
Opening hours vary according to the season.
Weather
Check out the weather reports for our centres.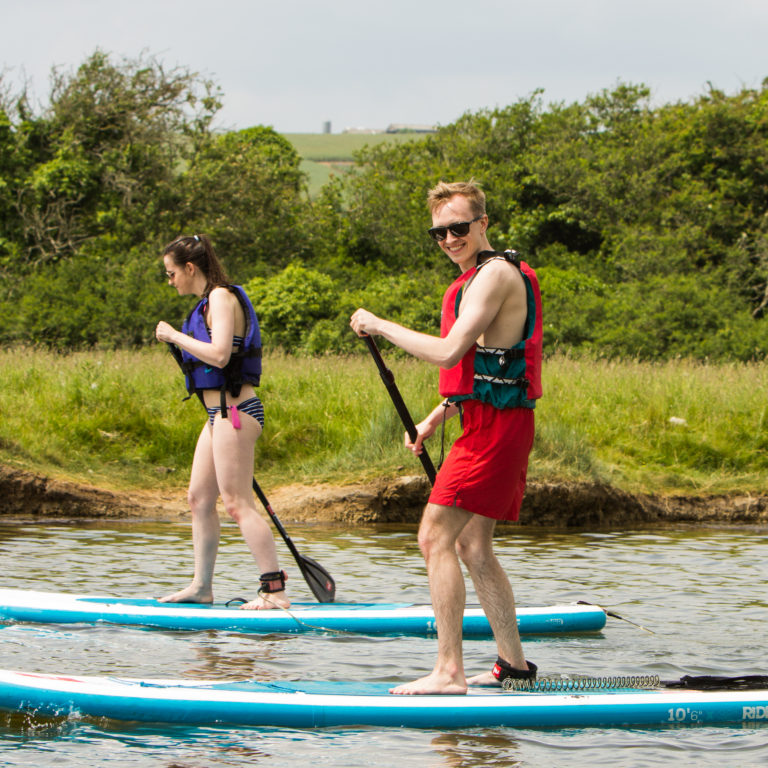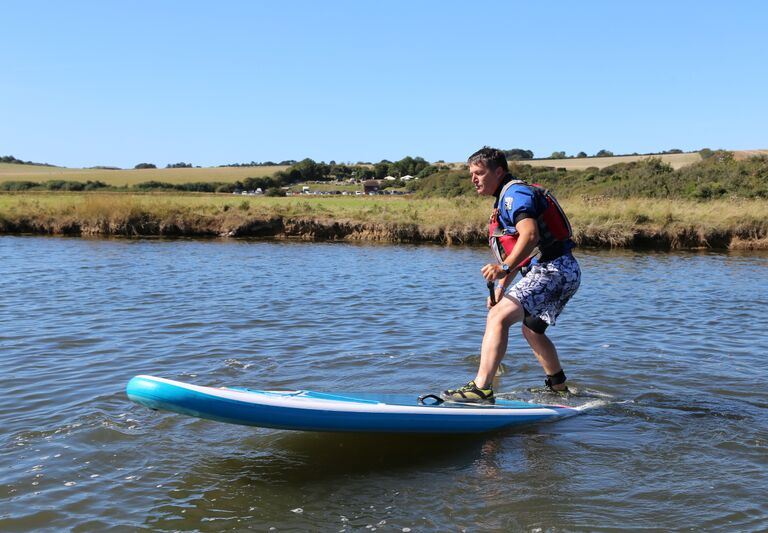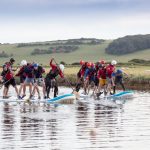 SUP Social
Every Thursday evening 1800-2000 from 19 April to 6 September and every Saturday afternoon from 2-4pm 8 April to October 27.
Offered at our Cuckmere site, this will be a 2 hour session for those wishing to hire, and those with their own kit to come down and paddle in company in the beautiful setting of the Cuckmere Valley in the Seven Sisters Country Park. We will have special events and social activities running regularly. Sup polo, trips round the 'loop' and maybe even a trip up the river or down to the sea.
Hire costs- £15.50 for the session.
want to try for the first time?
SUP Social Taster
6-8pm every Thursday as above £20.50pp – 1 hour of tuition and 1 hour of playtime on the meander.
We also have an 'XL' sup, so if you have a group and want a challenge, why not book the XL board for up to 8 adults (min 4). available to hire for £40 per hour.
Stand up paddle boarding – or SUP – is an adaptation of canoeing and surfing. With a large surf board and a long canoe style paddle, you learn to balance and manoeuvre before learning how to surf the paddle board.
This easy to learn sport is available at both our Eastbourne and Cuckmere sites. Safaris are available on the meanders for beginners or on the river to Alfriston or the Cuckmere haven for intermediate paddlers (weather and tide permitting) please see the booking pages for details of courses.
We can do sessions for school groups, friends and family or corporate days – as well as equipment hire and courses to get you BSUPA certifications. Contact us to find out more.
Locations
Buzz Eastbourne
(Spray Water Sports Centre)
Royal Parade, Eastbourne,
East Sussex, BN22 7LD
Tel: 01323 417023
Buzz Cuckmere
(Seven Sisters Canoe Centre)
Exceat, Nr Seaford,
East Sussex, BN25 4AD
Got some questions? Then please call
01323 417023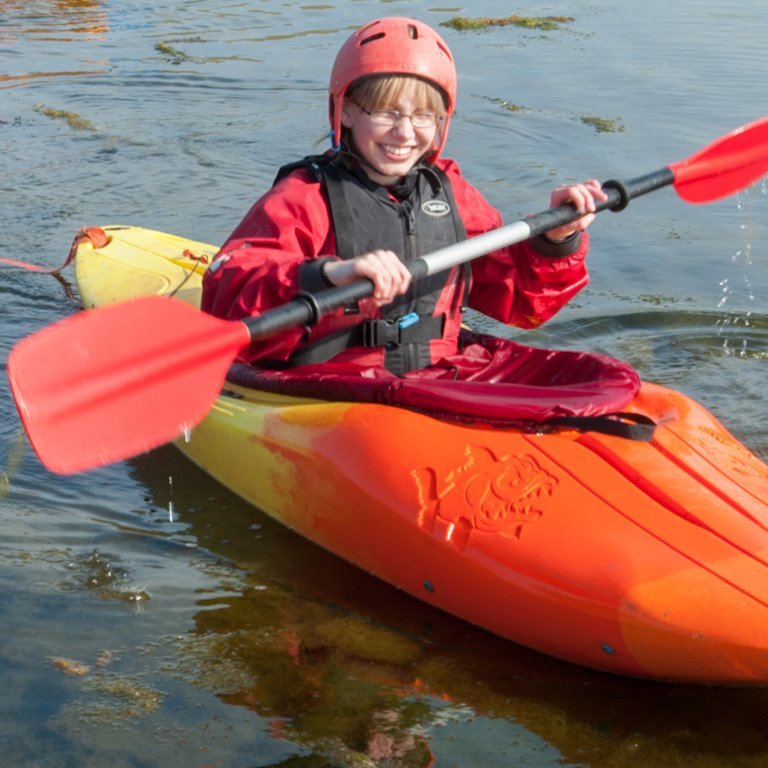 Ideal for school groups or families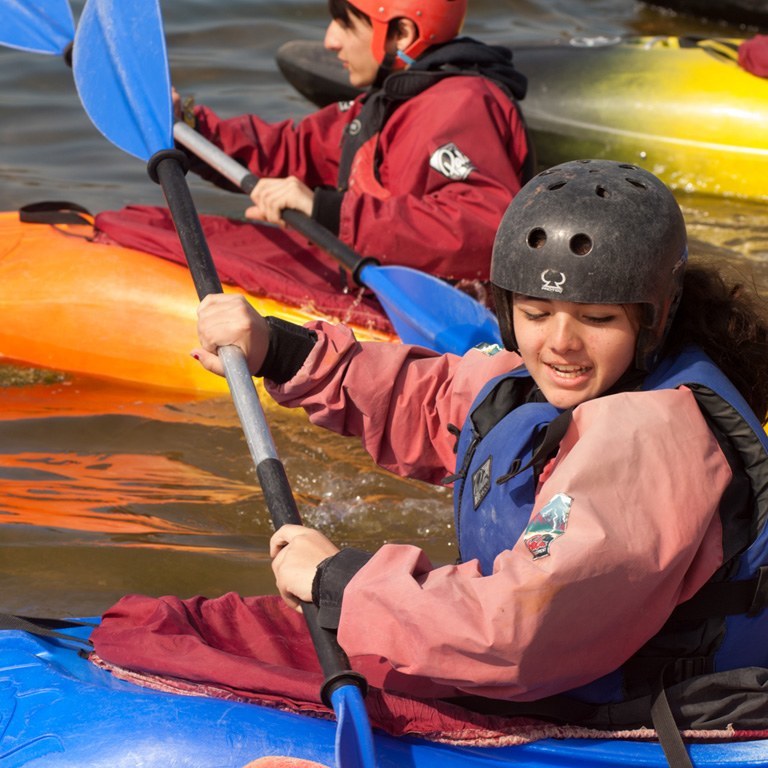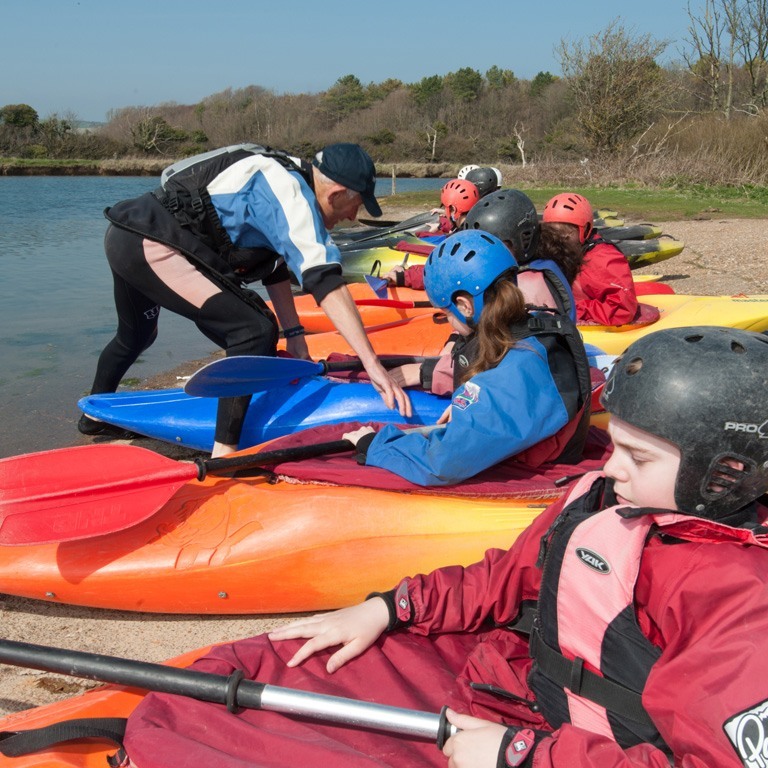 British Canoe Union member
Tuition and coaching
We offer a range of canoeing and kayaking activities at our Buzz Cuckmere centre.
We cater for family outings, school groups and corporate away days. Our experienced instructors will ensure a fun day out – or, as a recognised training centre for the British Canoe Club, they can help you work towards the BCU certifications.
This sport can be booked as an activity on its own or as part of a multi activity session.
Canoe Club
For those interested in kayaking and canoeing on a regular basis, the Cuckmere Valley Canoe Club shares our site at Buzz Cuckmere and runs informal group sessions on Sunday mornings. Contact the Cuckmere Valley Canoe Club to find out more about joining in sessions.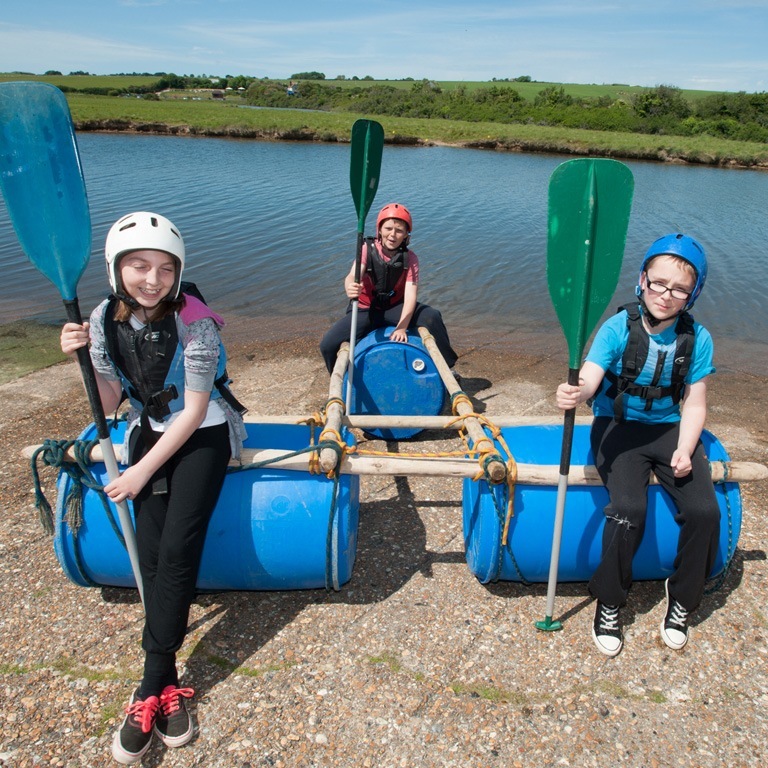 Test your engineering skills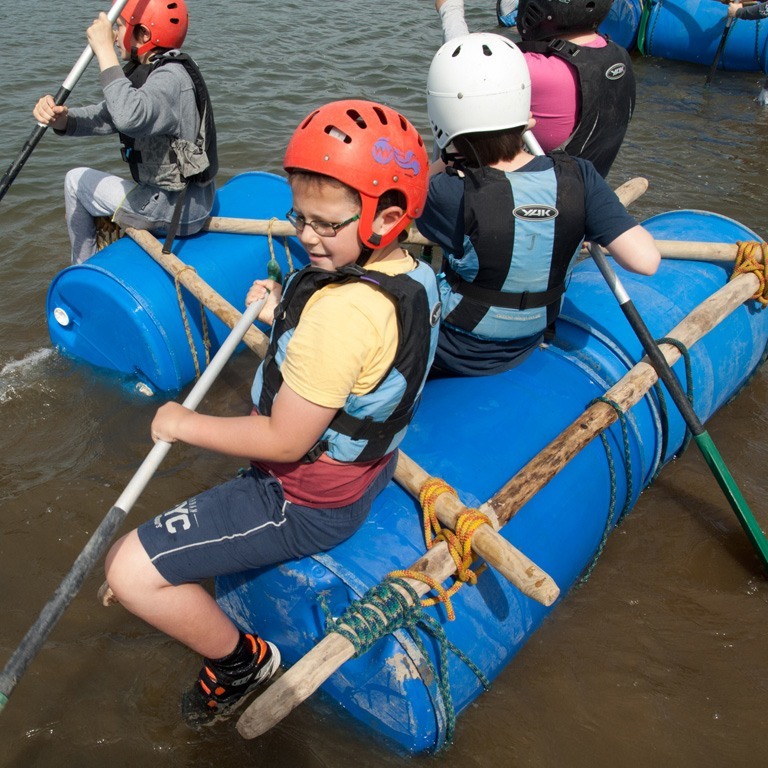 Raft building is an ideal activity for a team or group to get to know each other and learn how to work together – while having fun on the water.
Suitable for anyone from 8 years old and up, we can cater for groups of up to 32 and it's a big success with both school trips and corporate away days.
Raft building can also be combined with other activities – either water or land-based – for a great day out.
Come test your engineering skills!
Locations
Buzz Eastbourne
(Spray Water Sports Centre)
Royal Parade, Eastbourne,
East Sussex, BN22 7LD
Tel: 01323 417023
Buzz Cuckmere
(Seven Sisters Canoe Centre)
Exceat, Nr Seaford,
East Sussex, BN25 4AD
Tel: 01323 491289
Got some questions? Then please call
01323 417023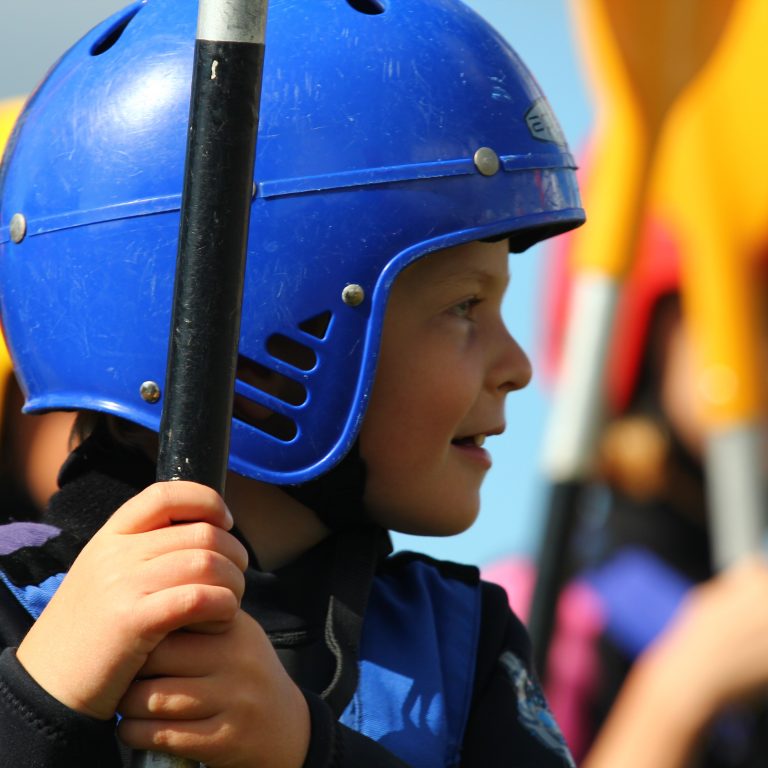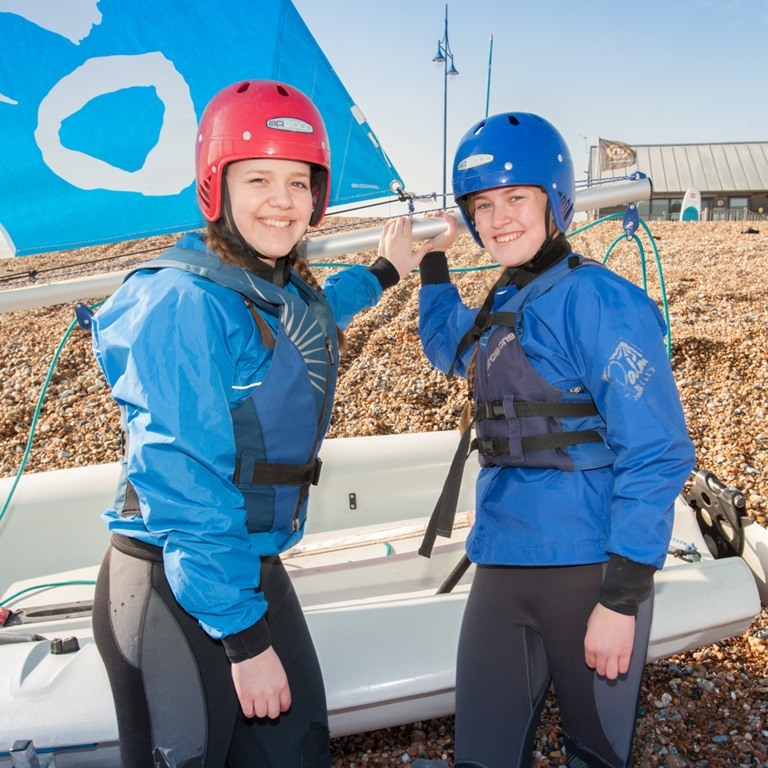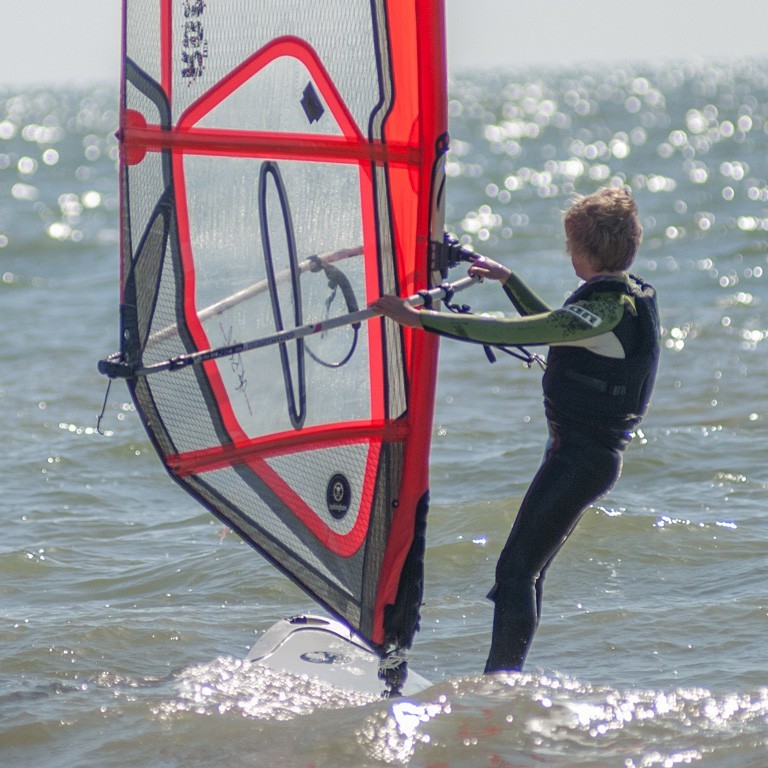 October half term activities.
October half term is not far away and we have a whole host of activities on offer. Whether is sailing and windsurfing courses, Paddle power passport paddle power skills course, kayaking or SUP taster sessions, and multi activity sessions at both centres.
Adventure week (10-16 year old's)
The Adventure week is held at the Cuckmere centre.  The week includes kayaking, where participants will complete their 'paddle power' passports in the mornings throughout the week. In the afternoons its raft building, team games, Stand up paddle boarding, orienteering, bivouac building and more!
The week will run from 0930 -1630 pm Monday to Friday. The courses will run in May half term, summer holidays and October half term 2018.
Skill  courses for 6-14 years in sailing windsurfing and paddle sport
We promise great fun for a fantastic price. The sheltered meanders of Cuckmere Haven, and the protected lake at Princes Park in Eastbourne, guarantee we can get out on the water whatever the weather.
Courses in windsurfing, canoeing or sailing for ages 6 to 14 (RYA stage 1, 2 and 3 and BC Passport certificates)
Multi activity fun course (Eastbourne)
A mix of sail windsurf paddle sport and fun and games.
Taster sessions
We run taster sessions for all our activities at peak times. These are also available to book bespoke.
Locations
Buzz Eastbourne
(Spray Water Sports Centre)
Royal Parade, Eastbourne,
East Sussex, BN22 7LD
Tel: 01323 417023
Buzz Cuckmere
(Seven Sisters Canoe Centre)
Exceat, Nr Seaford,
East Sussex, BN25 4AD
Tel: 01323 491289
Taster sessions are a great introduction to your chosen sport that will certainly get you hooked! Sessions can be run either in groups or one to one, are led by fully qualified instructors and include all equipment.
We have a number of special deals through the season. Special try it for £10 sessions will be running for RYA Push the boat out week in May, Beach life festival in July, Eastbourne 'Airbourne' airshow and Bank Holiday weekend in August 2018. click below for more info and bookings.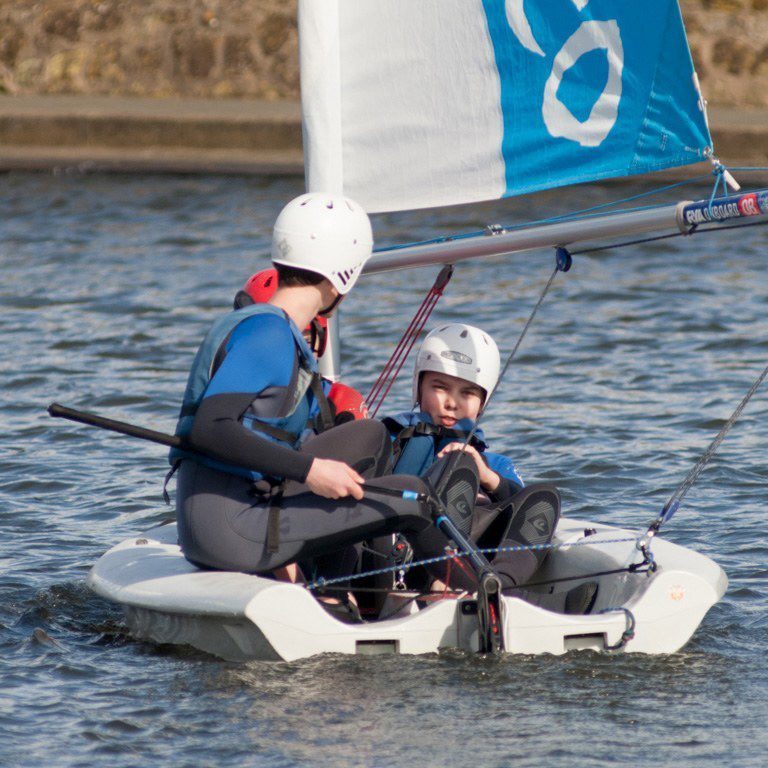 A great way to try activities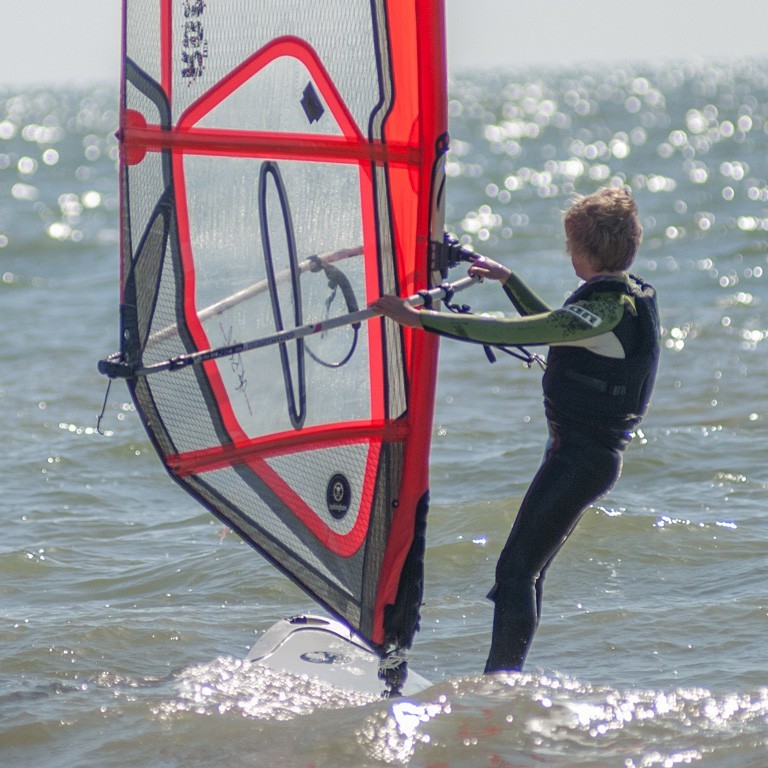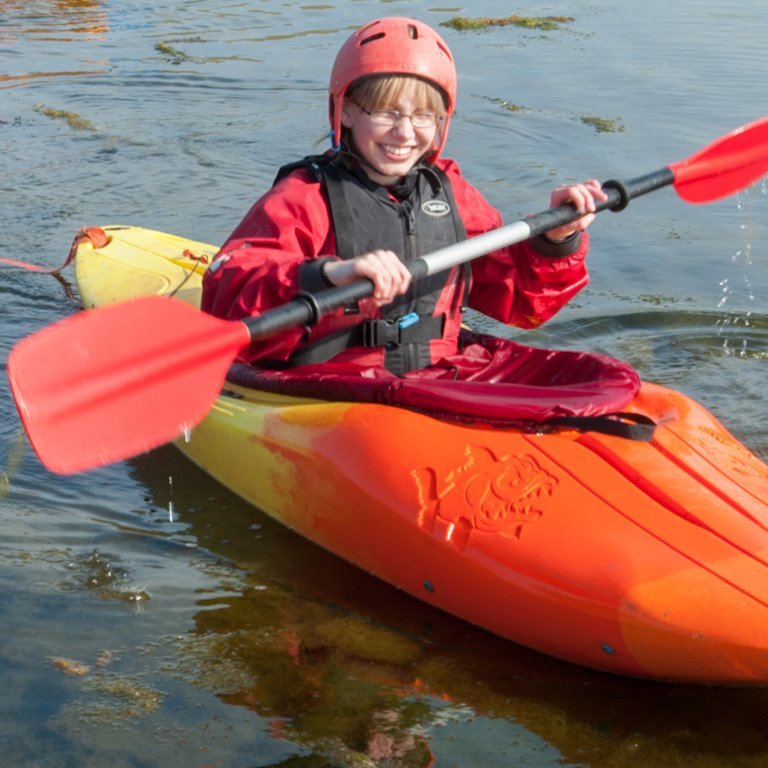 Choose from dinghy sailing, kayaking, canoeing, windsurfing, stand up paddleboarding, raft building, climbing, archery or bush craft – or a combination of two or more.
Buzz Eastbourne, Cuckmere and Bushy wood run taster sessions.
We can also arrange a programme of taster sessions to run as an afterschool or weekend activity club – or to create a whole 'Multi Activity Day'.
Locations
Buzz Eastbourne
(Spray Water Sports Centre)
Royal Parade, Eastbourne,
East Sussex, BN22 7LD
Tel: 01323 417023
Buzz Cuckmere
(Seven Sisters Canoe Centre)
Exceat, Nr Seaford,
East Sussex, BN25 4AD
Tel: 01323 491289