Used equipment for sale
Here at Buzz Active we are selling our fleet of paddle boards for the 2019 season. All boards have been used for our hire and group coaching sessions at the River Cuckmere. All boards are kept inflated throughout the season, come with a bag, pump and leash.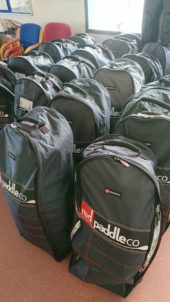 Red Paddle Co Ride
all include a Red paddle co roller bag, titan pump and DaKine Coil leash.
2019 Red 9'8" Ride £600 each 
2019 Red 10'6" Ride £600 each 
2019 Red 10'8"  Ride £600 each 
Red Paddle Co Elite 14′
Light use for 6 months only, Kept inflated. Some light marks on fin, no other marks. Comes with fin, bag, pump. Leash as pictured.
£750
2018
O'Shea 11'2" GT
Great touring flat water board, 11'2" by 34" wide a good option for heavier paddlers
£275 each
Red Paddle Co Wild 9'6"
light use on flat water only. Comeswith bag, pump and leash.
this board does have 4 fixed fins, and a US box for a 5th fin, not supplied
£700
Red Paddle Co Voyager 12'6" and 13'2"
Great touring boards, excellent glide and carrying capability.
Come with bag, pump, leash
£700 each
Got some questions? Then please call
01323 417023