Kayaking & canoeing courses
We offer a variety of kayaking and canoe courses for school and group bookings. We also run holiday clubs and private tuition for 8 years and up can be booked bespoke.
Junior Paddle Start- taster sessions
10-1200  taster session for juniors
Sessions run  Every Saturday from 4 April  to 26 September.
Cost: £20.50 per person
Paddle Start Award – adult taster session.
Experience your first session on the water; learning useful skills for an enjoyable paddling experience. It aims to provide you with the basic knowledge to enable you to safely get in and out of your boat, make it move and return to your start point. This is your first step into the world of paddling, ensuring you feel safe, confident and ready to progress to the Discover Award
sessions run 2 – 4 pm every Saturday 4 April to 26 September.
£20.50
If you would like a bespoke experience we run taster sessions for many of our water sport activities, including kayaking and canoeing at a time more convenient to you. These can be taken singly or in any combination of two or more activities. See our taster sessions for more details and prices.
Alfriston trip on the River Cuckmere.
We will be offering a guided tour with one of our British Canoeing coaches up the river towards Littlington and Alfriston when the tides suit the journey, typical journey times are approx. 4 to 5 hours including a lunch stop. Starting and finishing at the Cuckmere center this return journey is a beautiful trip up the idyllic Cuckmere Valley, you can paddle a kayak, sit on top or a Stand Up Paddle board. This is a days paddling, You must be able to paddle a kayak or SUP to embark on this trip. We will assess your ability before leaving the meanders so please be honest when you book or you may be turned away on the day! Taster sessions are available, please see above.
5 September 1300-1800
19 September 1130-1630
Friday 2 October 11:30
Cost: £35 pp inc equipment.5 hour trip. per person
Book now
Sea kayak touring.
Join us on bespoke kayak trips along the coast. Trips from Cuckmere or Eastbourne sites along the coast in Eastbourne bay, Cuckmere haven or along the seven sisters to the world famous Beachy head Lighthouse.
Trips are planned in around favourable weather conditions for competent paddlers.
email or call us for more information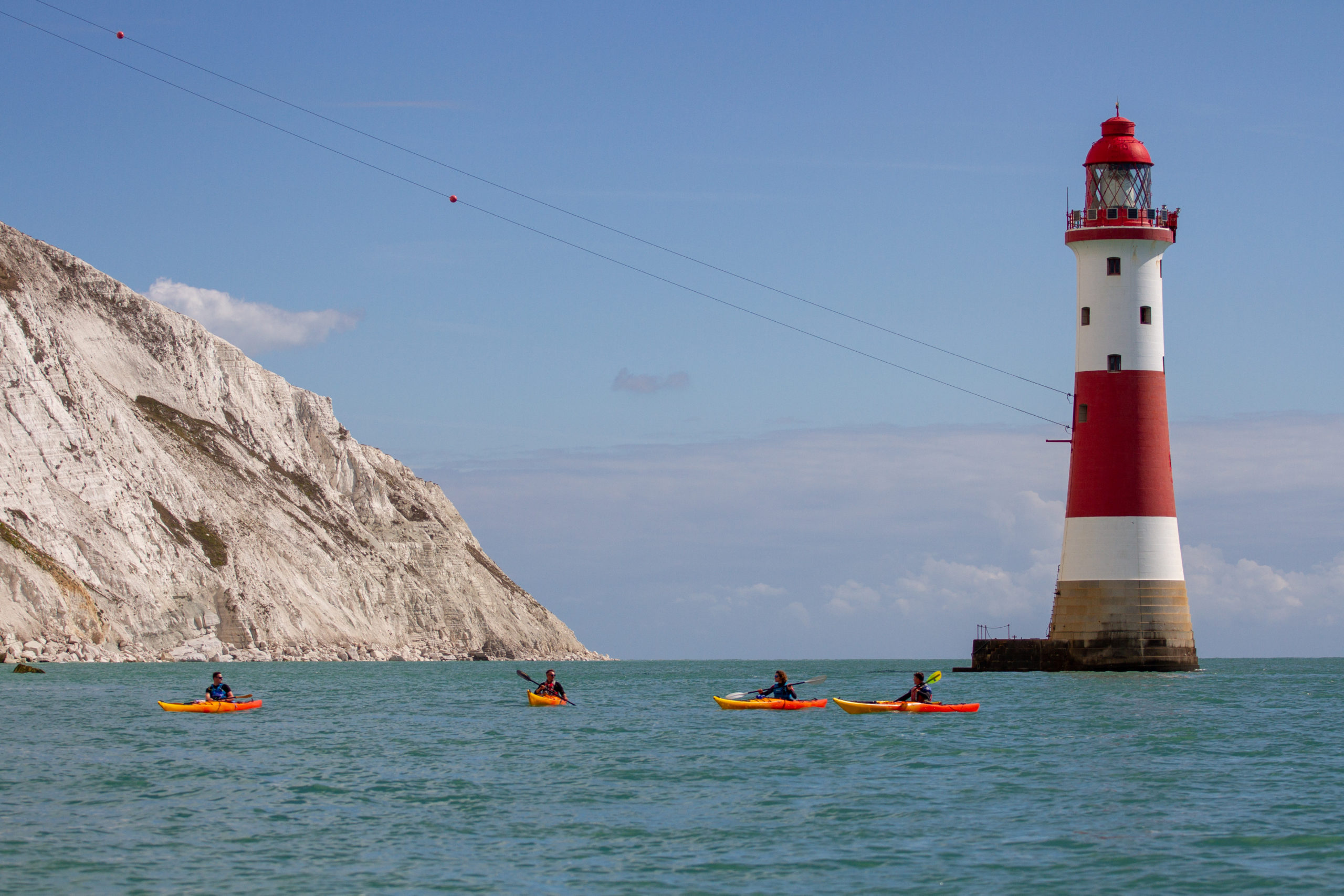 British Canoeing Personal Performance Awards
Paddle Discover Award
Your Discover Award allows you to develop your decision making and practical skills for a fun and safe time on the water, taking you on the next steps towards becoming a proficient and independent paddler. Learn how to choose and effectively use equipment, whilst developing an understanding of the factors which affect your paddling; giving you the confidence to progress to making your own choices with the Explore Award.
4th April18th April2nd May16th May30th May13th June27th June

11th July

25th July

8th August

22nd August

5th September

19th September
Cost: £96 per person
For bespoke dates please contact us. 1:1 tuition available for this course at £168.50 pp
Paddle Explore Award
Your Explore Award gives you ownership; allowing you to choose where you move next in the world of paddle sport. Working with a coach you will be able to develop a programme that suits what you need. Learning to make confident choices with this individual  approach. Developing your ability to independently paddle your chosen craft in a sheltered water environment.
April 5 & 6
for bespoke dates please contact us. 1:1 tuition available for this course at £236 pp
Cost: £168 per person
Check out our holiday club for various kayaking courses (8 – 16 year olds) across Easter, May and summer holidays.
Got some questions? Then please call
01323 417023